We offer you the best Bible to download on your cell phone.
The most read, most preferred Bible of all time. The King James Version, a 16th century Bible but still current and loved by all English-speaking Christians. Its prose, its meaning, its content is unparalleled. That is why it is the most chosen Bible.
Besides having it in book format, today you can have it comfortably on your phone. Download the app that allows you to have the Word of God in your phone, next to you always.
Free and without internet, read and listen to the text of the Bible on your cell phone.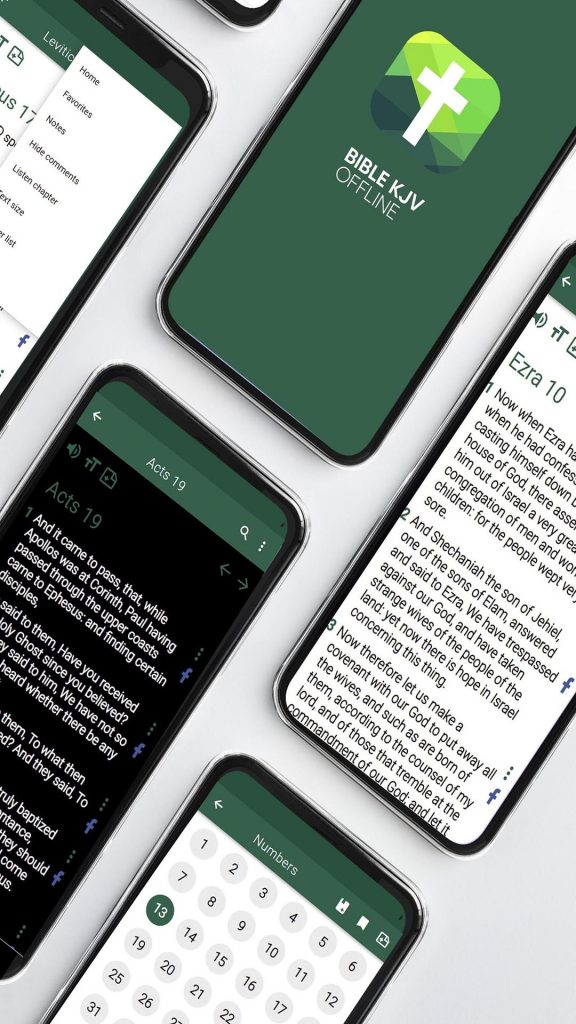 Download now Bible KJV offline and enjoy its multiple functionalities:
✅ Install the best Bible app for Android
✅ Optimized for smartphones and tablets
✅ Audio Bible
✅ It allows you to read and listen to online or offline content wherever you are
✅ Search the favorite Bible verse, books, and chapters by keywords.
✅ You can easily bookmark your King James Bible to quickly access your darling verses and phrases
✅ Memorize and remember the last read Bible verse
✅ Organize Bible verses by a favorite list and add notes
✅ Change the font-size of the text in the Bible
✅ Use night mode to rest your eyes when reading at night
✅ Spread the holy bliss in your surrounding community: share motivational Bible verses on social
sites via your account or send Bible verses by email to your contacts
✅ Receive encouraging Bible verses delivered to your mobile device daily as well as on Sundays
Download now Bible KJV offline and enjoy its motivational phrases and verses anytime you wish to read or listen to. Fill your life with holy blessing!
https://play.google.com/store/apps/details?id=bible.kjv.offline