Welcome to the best Bible for women. A digital, women's Bible to read and listen to the Bible text on your phone. We know that today's Christian woman has many activities and little time. That's why we bring this modern and intuitive app that will help you to go deeper into the reading of the Word of God, so you can transmit your values to your children and family.
The best app for the confident, independent and believing woman.
Download this feminine app and enjoy its functionalities:
✅ Free to Use: You can download and use this app without paying even a single dollar
✅ Offline Bible: If you are not connected to an internet connection all the time, this app is best for you. You can use it even when offline.
✅ Audio Bible: Some people are good at hearing than reading. You can switch to the audio Bible whenever you desire.
✅ Option to Bookmark: you can bookmark favorite verses with different colors to find them instantly at the moment of need.
✅ Mark Last Read Verse: You can't remember the last verse you read. The app can mark the page you are on and can resume from there whenever you desire.
✅ The app lets you to add the verses and chapters you love to favorites list as many you want.
✅ Personalize Your Bible: you can change the font, set day or night mode, and other options.
✅ The app allows you to search chapters and verses on the basis of keywords
✅ Now you can share verses with your friends and family on social media via
✅ Verse Reminders: you can receive Bible verses every day
✅ Add Notes while reading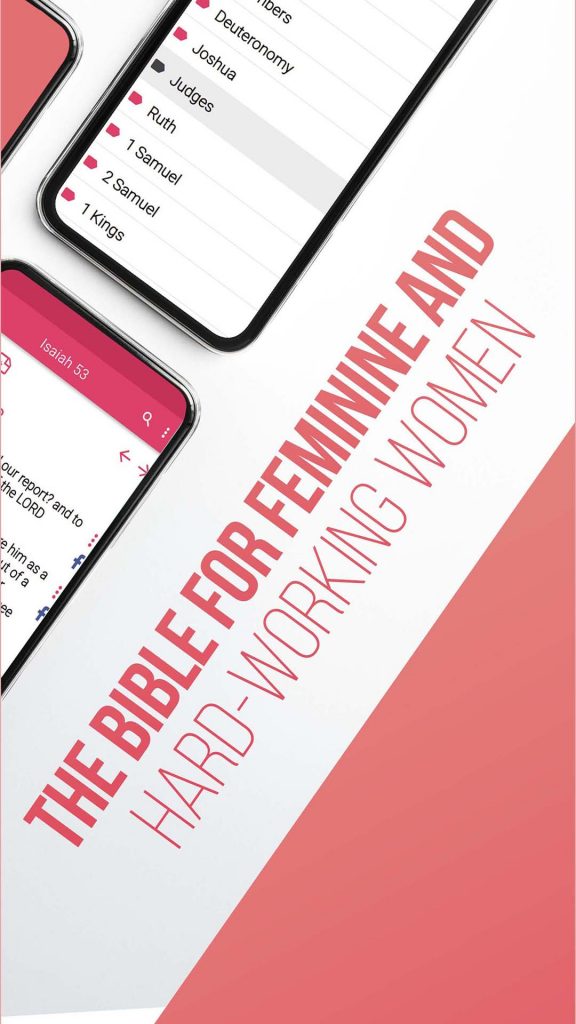 Old Testament:
The Pentateuch: Genesis, Exodus, Leviticus, Numbers, Deuteronomy.
Historical Books: Joshua, Judges, Ruth, First Samuel, Second Samuel, First Kings, Second Kings, First Chronicles, Second Chronicles, Ezra, Nehemiah, Esther.
Books of Wisdom (or Poetry): Job, Psalms, Proverbs, Ecclesiastes, Song of Solomon.
Books of the Prophets:
Major Prophets: Isaiah, Jeremiah, Lamentations, Ezekiel, Daniel.
Minor Prophets: Hosea, Joel, Amos, Obadiah, Jonah, Micah, Nahum, Habakkuk, Zephaniah, Haggai, Zechariah, Malachi.
New Testament:
The Gospels: Matthew, Mark, Luke, John.
History: Acts
Pauline Epistles: Romans, 1 Corinthians, 2 Corinthians, Galatians, Ephesians, Philippians, Colossians, 1 Thessalonians, 2 Thessalonians, 1 Timothy, 2 Timothy, Titus, Philemon.
General Epistles: Hebrews, James, 1 Peter, 2 Peter, 1 John, 2 John, 3 John, Jude.
Apocalyptic writings: Revelation.
https://play.google.com/store/apps/details?id=woman.bible.kjv